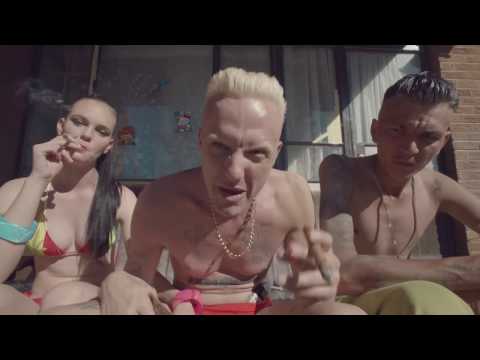 Die Antwoord's latest music video for "Baby's on Fire" was released earlier this month and, like most things they do, got instant world-wide attention. Less than a day after release the video had been viewed 400Â 000 times on YouTube and today, a few weeks later, the number is close to 3 million.
The video was co-directed by Terence Neale of Egg Films and Die Antwoord's own, Ninja.
In an interview that's more Q than A, we asked them about the experience. This is what they had to say:
Between 10and5: Terence, what was it like working together as a team with Ninja?
Terence Neale:Â  Both him and Yo-landi know exactly what works for them and what doesn't. All their work so far has been amazing, so I knew right from the beginning that was something I was going to trust.
10and5: What were your individual roles?
Ninja: I'm da boss of evreything.
10and5: How big was the team, and were there any specific people that really pulled it together?
Ninja: We only work with a small, tite team of close friends who all live in South Africa and we flew the DOP, Alexis Zabe, in from Mexico, who is also a real close friend.
Terence: Kezia Eales was also there right from the beginning holding it all together. Julia Schnurr came on board to help produce (and AD), and Saki Bergh killed it in the edit. I also have to mention everyone we see in the video, except for the oil-wrestling twins and the twins who get out of Ninja's Subaru, are from the area where we shot.
10and5: Terence, you're known as being a commercials director. How is shooting a music video different to shooting an ad?
Terence: The whole video was an advertisement for PIETRO CORICELLI Extra Virgin Olive Oil (Since 1939) that was used for the oil-wrestling scene.
10and5: The new creative direction is a departure from the previous "dark age" of Die Antwoord, characterised by contrasting black and white. The video treatment is almost a return to something that was prevalent when you guys started out (reminiscent of the Nu-Rave parties). What made you guys do the change?
Ninja: I don't know.
10and5: Was a pop look intentional?
Ninja: Yes
10and5: What were the creative references that you can share?
Terence:Â  Buffalo 66, Black Cat White Cat, Twilight, BTTF and ET.
Ninja: I referenced the colours on a baboon's ass.
10and5: How many of the stunts were practiced or setup? The guy getting on the hood of the car is pretty badass. Were there any casualties?
Ninja: No practising, they were all first takes.
10and5: Which location did you pick? It looks like a Gauteng based area, but with strong hints back at Mitchells Plain.
Ninja: You don't know what u talking about.
10and5: How would you respond to the people saying that the video puts South Africa in a bad light?
Ninja: fuck whatever
Terence: fuck whatever
10and5: Who did the Yo-landi mural art seen in the video?
Ninja: G-BOY
10and5: Ninja and Yo-landi wrote the script, how much creative freedom did you have, Terence?
Ninja: You are not allowed to answer that.
10and5: It seems acting and directing come naturally to Die Antwoord. Any future plans for making movies?
Ninja: Maybe
www.eggfilms.tv/directors/terence-neale