In Partnership with GreenPeace, the UN and More.
Virtual Equality, a human rights-focused technology collaborative that is revolutionizing the interactivity and impact of traditional VR, has announced a first-of-its-kind Merged Reality Metaverse event in support of Constitution Hill's 5th Annual Human Rights Festival which is set to take place from the 25th to the 26th of March 2023 in Johannesburg, South Africa. Powered by SodaWorld, with marketing support from AUDIENCEX, Virtual Equality is partnering with some of the world's most recognized impact institutions, including GreenPeace, Amnesty International, the United Nations, and The Leah Tutu Foundation. Virtual Equality will enable citizens from all nations to engage in this vital annual festival dedicated to furthering and protecting democracy and human rights. Featuring speeches from prominent human rights and political leaders (Former Public Protector, Adv Thuli Madonsela and reigning Miss SA, Ndavi Nokeri) to performances from renowned global artists and musicians (BCUC, Msaki, Biko's Manna and Mfundo), Virtual Equality aims to encourage and amplify digital activism as well as explore new solutions and technologies to advance equality and justice on a global scale.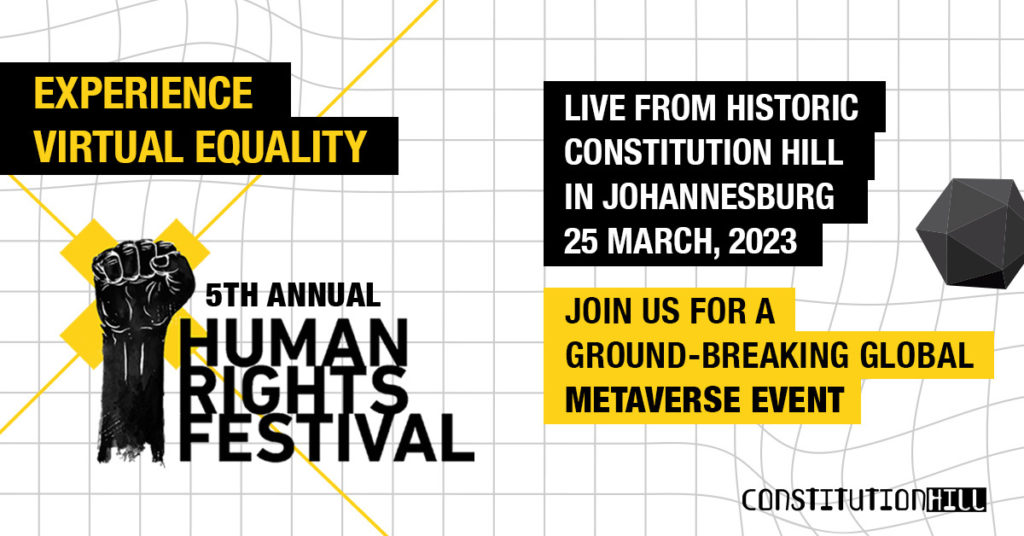 Features of the groundbreaking event include:
Real World Broadcast Room
Merge realities at this dedicated space at Constitution Hill, uniting physical and virtual participants.
Historic Site Digital Twin
Explore an immersive recreation of historic incarceration facilities at Constitution Hill in virtual reality from anywhere in the world.
Web & Mobile Accessible Platform
Those without access to VR can experience the festival and join the movement with digital content and social engagement simply through a mobile device or browser.
Ongoing Streaming Content
Take in inspiring keynote speeches, expressive live art, and illuminating films from anywhere with live streaming content.
This 5th edition of the Constitution Hill Human Rights Festival takes place at a time when our country is in crisis and our Constitutional vision of social justice and human rights is being stretched to breaking point. For this reason, the theme of the festival is Seize the Power! Seize your power!

– Constitution Hill CEO Dawn Robertson.
Virtual Equality is a historic event, brought to life by SodaWorld in Johannesburg with marketing support from global agency AUDIENCEX, that invites everyone to engage, contribute, and explore ideas to help create a better-shared future. Global citizens are invited to this ground-breaking global event, as we work to build a more equitable world for all through the power of the Metaverse and the movement for Virtual Equality.