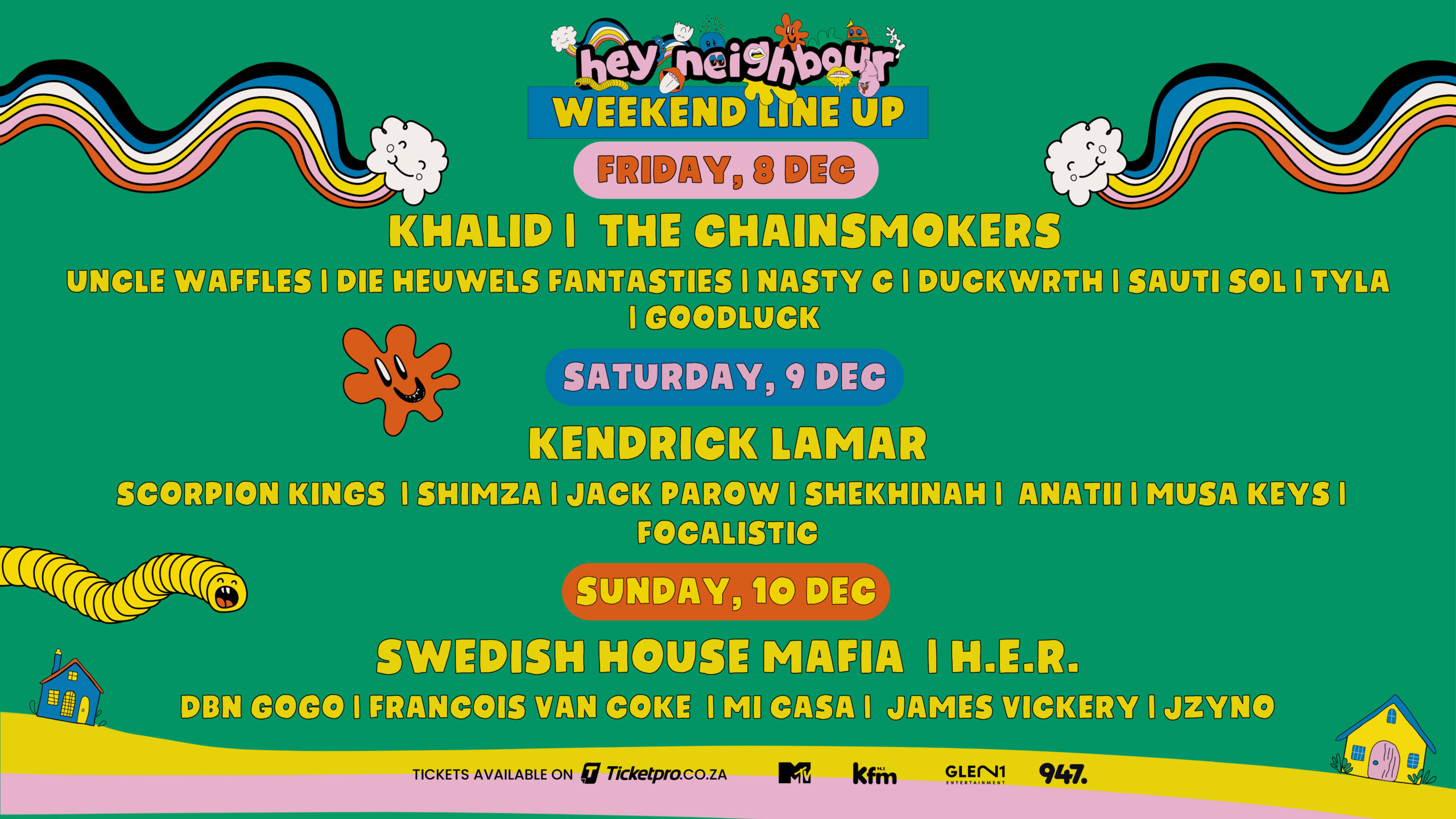 The second phase of the HEY NEIGHBOUR festival lineup is a fusion of local awesomeness with a dash of international flavour. Why, you ask? 'Cause local is lekker and global is groovy.

They are talking about joining the ranks of H.E.R., Khalid, Swedish House Mafia, The Chainsmokers, and Kendrick Lamar. The HEY NEIGHBOUR festival lineup is like a global potluck of musical genius, representing neighbourhoods from across the world. Hold onto your hats, 'cause here's the scoop!

First up, the Amapiano juggernaut, the royalty of the genre, UNCLE WAFFLES, straight out of Swaziland. But hey, Piano fanatics, we're not stopping there. Get ready to vibe with the Yanos legends: DBN GOGO, the electrifying SCORPION KINGS, the maestro MUSA KEYS, and the firestarter FOCALISTIC.

Wait, there's more! Get ready to jump with excitement as we welcome the iconic JACK PAROW and the rock sensation FRANCOIS VAN COKE. You know them, you love them – the crowd pleasers, MI CASA, GOODLUCK, and SHIMZA are in the house!

Hold up, hip-hop aficionados, we're dropping the mic for you too! ANATII and NASTY C are confirmed to bring the heat. And ladies and gentlemen, give it up for the powerhouse SHEKHINAH and the TikTok sensation turned international music sensation, TYLA. Rock vibes, anyone? Let's groove with Afrikaans rock legends DIE HEUWELS FANTASTIES and the smooth vocals of UK-based JAMES VICKERY.

But guess what? The international flavour isn't stopping either. We're bringing the US magic with the incredible DUCKWRTH and the Afro-global vibes with Ghanaian/Liberian superstar JZYNO.

And don't even think we're done yet! Brace yourselves for the phase three bombshells with more African brilliance and perhaps a sprinkle of international stardust.

Listen up, fam! HEY NEIGHBOUR is more than a festival; it's a full-blown experiential extravaganza. Think music, think community, think unforgettable fun.