In consideration of you entering the competition, you agree to the following: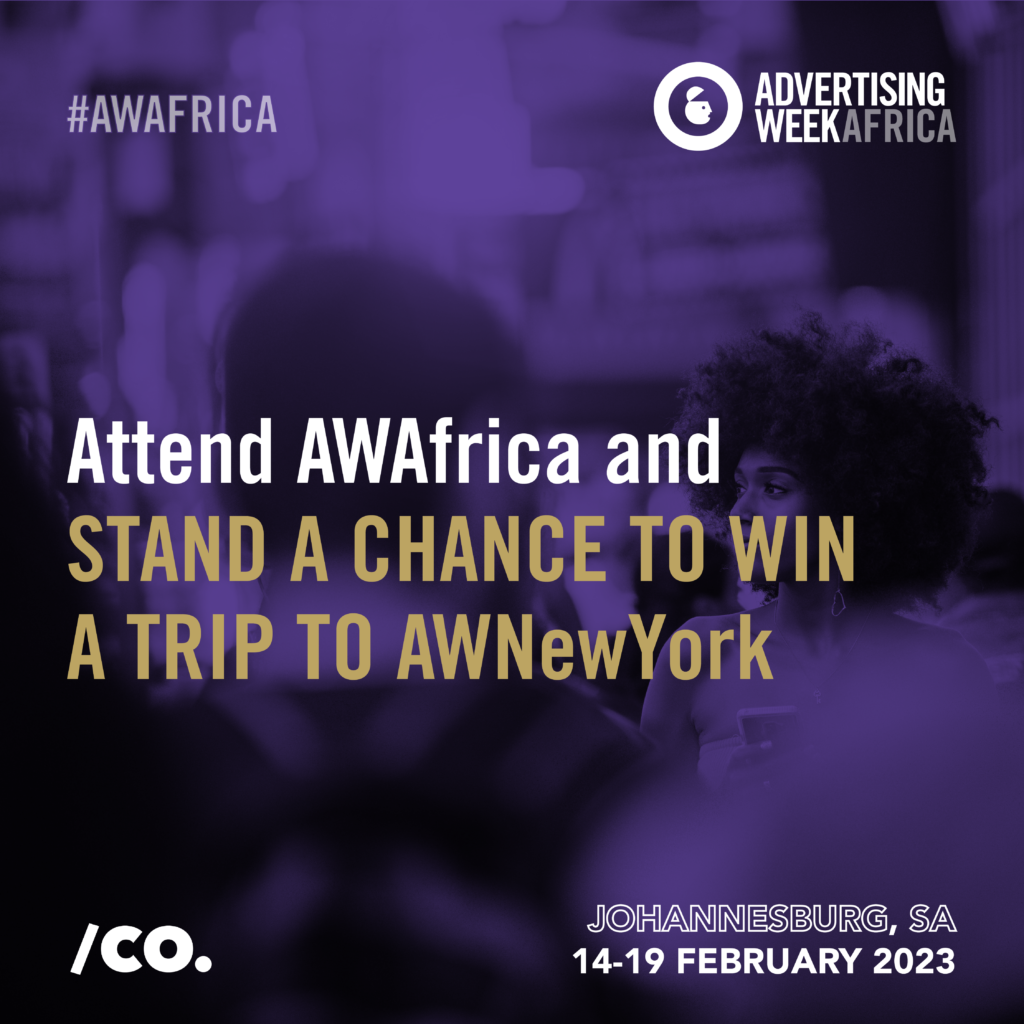 How to Submit a Valid Entry
You are eligible to enter if you:

are a person who is 18 years or over;
have a valid passport and are willing to travel to the United States of America;
agree to the Terms and Conditions;
do not breach the Terms and Conditions; and
are not an employee, or immediate family member of an employee, of the Promoter or an entity associated with the Promotion.

The only way to submit a Valid Entry is by sending us an email (insert email address) telling us what are you most excited about Advertising Week Africa and why you would like to attend Advertising Week New York.
You must not submit an entry that:
contains invalid, incomplete or inaccurate information;
you are in good physical health, and capable of participating in strenuous travelling;
you do not suffer from any illness or injury that prevents you from engaging in strenuous travelling;
to the extent permitted by law, you indemnify the Promoter, its agents and servants from any claim, loss, damage or damages whatsoever, including, but not limited to, economic, direct or indirect loss, or personal injury suffered or sustained in connection with, or arising from, this Promotion;
the Promoter does not warrant the accuracy of any information provided to you about the Promotion;
if requested, you must participate in editorial activities relating to the Promotion including, but not limited to, being interviewed and photographed;
You must be available for travel on the dates nominated by Advertising Week; if not the prize cannot be transferred to someone else or taken at another time.
the Promoter may collect your personal information, including, but not limited to, your name, likeness, email address, picture and participation in editorial activities ("Personal Information");
you must inform the Promoter if your personal information changes during the Promotion Period;
you consent to the Promoter's privacy policy;
you consent to the Promoter disclosing, publishing and disseminating your Personal Information by any means including, but not limited to, in websites, social media, other media coverage, blogs, photographs and videos;
you consent to the Promoter sending you emails from the Promoter for research, survey, competition and general promotion purposes;
you grant the Promoter a worldwide, royalty-free, perpetual, exclusive and irrevocable licence to use your entry for any purpose;
you unconditionally and irrevocably consent to any act or omission that would otherwise infringe any of your moral rights, or present and future rights of a similar nature, conferred by law anywhere in the world whether occurring before or after this consent is given ("Moral Rights");
The time of entry will be the time that the course is completed. You may receive a confirmation message that you have submitted a Valid Entry. The Promoter is not responsible if a Valid Entry is not received whether this is caused by a system difficulty or malfunction or any other reason.
If, for any reason, the Promotion is not capable of running as planned the Promoter reserves the right in its absolute discretion to take any action that is legally available to reschedule, change or cancel the Promotion.
Choosing a Winner
The Promoter may, in its absolute discretion, disqualify an otherwise Valid Entry if, in the reasonable opinion of the Promoter, you have not complied with these Terms and Conditions or the entry process.
One winner will be chosen by the Promoter at their absolute discretion based on the merits of creativity.
The Promoter may select alternative winners to replace any subsequently disqualified winner or a winner who does not claim their prize within a reasonable period of time or after the lapse of 7 days from being notified or cannot travel on the dates that where notified.
All decisions of the Promoter are final and no correspondence will be entered into.
The winners will be announced at the end of Advertising Week Africa at the last event
The Prize
not transferable, exchangeable or redeemable for cash;
subject to any terms and conditions of the Promoter or any third-party providers which the Prize Winner must agree to before accepting the prize;
claimable up to 7 days after being notified of the prize. The Promoter may allocate the prize to an Alternate Winner if you are unable to travel on the trip dates selected in 2023;
substitutable for Prizes of a similar value in the Promoter's absolute discretion if for any reason the Prizes, or any element of the Prizes, are unavailable;
taking place in 2023
subject to the Prize Winner satisfying lawful health, behaviour, age and safety requirements; and
exclusive of any additional costs and liabilities incurred by the Prize Winner that are not expressly stated as forming part of the Prize including, but not limited to, spending money, some meals, taxes (excluding flight taxes), visas (if not AU passport holder), additional travel extensions, tips & gratuities, personal, property & health insurance, transport to and from departure airports, items of a personal nature, in-room charges, wifi, losses, damages, claims, legal costs and increased personal taxation liabilities ("Additional Costs and Liabilities").
You agree to indemnify the Promoter against any Additional Costs and Liabilities you incur. You must pay and incur all Additional Costs and Liabilities as per clause 14.7. The Promoter, its agents and servants are not liable for any Additional Costs and Liabilities.